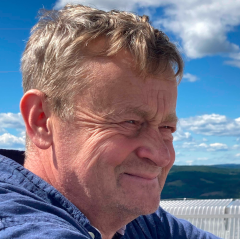 I am working in the general area of computational mathematics. My research is focused on numerical methods for partial differential equations; numerical linear algebra; multilevel methods for linear systems and optimization; nonlinear approximation tools in compression of data and machine learning; and the applications of such mathematical techniques in hydrogeology, resource economics, physics and other sciences.
[Google Scholar] [MathSciNet] [arXiv] [Zentralblatt MATH] [Math-Net.Ru]

Ph.D. students.
Current Ph.D. students: Zhengqi Liu, Cheng Zuo
Former students: A list of the Ph.D. students that I have advised or co-advised in the past is found on the Mathematics Genealogy Project.

Software. Together with Xiaozhe Hu (Tufts) and James Adler (Tufts) I am one of the authors of the HAZmath: A Simple Finite Element, Graph, and Solver Library, which provides basic finite element and graph routines.

Undergraduate research.
2017-2018:I worked with Kaiyi Wu (PSU student, class of 2018) on adaptive Markov Chain Monte Carlo methods (undergraduate thesis). In addition, Dr. Katherine Zipp (Department of Agricultural Economics, Sociology, and Education), Yangqingxiang Wu, Kaiyi, and I collaborated on a research project modeling the migration of invasive aquatic spieces. For more information, please see our article in Letters in Spatial and Resource Sciences.
2016-2018: Dr. Tess Russo (Global Development Technologies), Dr. Katherine Zipp, and I worked with Madeline Nyblade (PSU student, class of 2018), on

"Numerical Modeling of Agricultural-Hydrologic Systems.&quot

Maddy initiated this collaborative work and you can read more details about this project on Maddy's website.
2014: Research on Efficient algorithms for

planar graph drawing

using Tutte embedding with Laura San Roman (PSU student, class of 2016, co-mentor: J. C. Urschel).
2013: Together with John C. Urschel we worked with four PSU undergraduate students on

"Graph drawing"

(with Maureen Gallagher and Colleen Tygh) and on

"Monotone schemes for convection diffusion equations"

(with Bradley Thompson and Dana Tobin). Descriptions and reports on the research are found at the web page dedicated to this undergraduate research.
Contact info. Ludmil Zikatanov, Department of Mathematics, 239 McAllister building, Penn State, University Park, PA, 16802
Skype ID: ltz.math
E-mail: <ludmil.math AT gmail DOT com>
© Ludmil Zikatanov (1997--present)